ICAS Sword of Excellence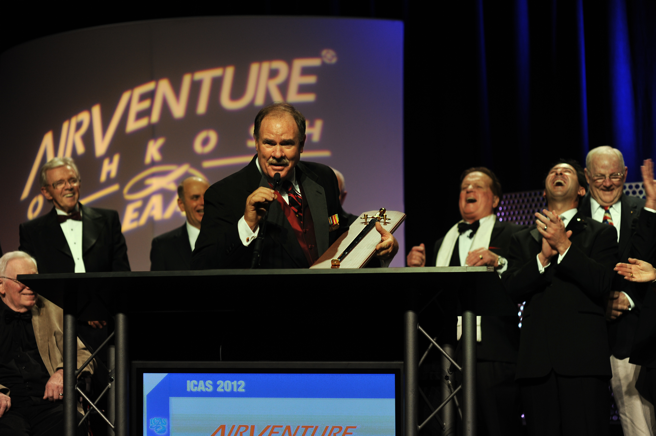 Since 1981, the International Council of Air Shows Sword of Excellence has been synonymous with air show excellence. Given each year to recognize outstanding service and personal contributions to the air show industry, the Sword is widely considered to be the single highest honor an individual air show professional can receive. Over more than 30 years, 45 different Sword recipients have been honored for their leadership, service, innovation, vision, commitment and selfless contributions to the air show business.
The award was created in 1981 to recognize the highest levels of achievement in the air show business. Since then, the stature and visibility of the ICAS Sword of Excellence have increased as the list of past recipients has grown. The single common characteristic of these air show performers, event organizers, military representatives, government officials and air show industry activists is their selfless commitment to improving and contributing not just to their own air show businesses, but to the entire air show industry. For a full list of past Sword of Excellence recipients, click here.
Art Scholl Memorial Showmanship Award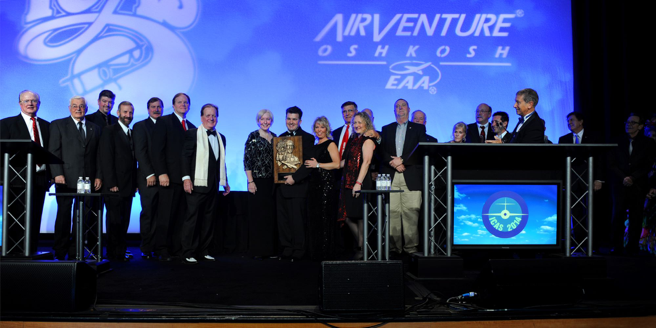 Each year, the International Council of Air Shows presents the Art Scholl Memorial Showmanship Award to the air show act or performer which best exemplifies the qualities of showmanship demonstrated by Art Scholl.
Scholl was killed while filming a flying sequence off the coast of California on September 16, 1985. A long-time and active ICAS member, he was a renowned aerobatic pilot and consummate air show performer. He flew his Penzoil Chipmunk aircraft before an estimated audience of 80 million people over 20 years and appeared in more than 200 motion picture films, documentaries and television commercials.
His exacting, exciting and entertaining performances were a reflection of the best in our industry. He was a dedicated professional who practiced tirelessly to get the most from himself and his airplane without sacrificing safety. His unique blend of pilot skills and showmanship always left his audiences wanting more. Every aspect of his performance - his marketing support for the shows he flew in, his personal appearance, the quality and professionalism of his flying, and his personal integrity - emphasized his determination to contribute to the overall success of any show in which he took part. Throughout his career, he set the standard by which all other air show performers have since been measured. To view the full list of past Art Scholl Memorial Showmanship Award recipients, click here.
Dick Schram Memorial Community Relations Award
Click here for the Dick Schram Memorial Community Relations Award application (deadline November 12)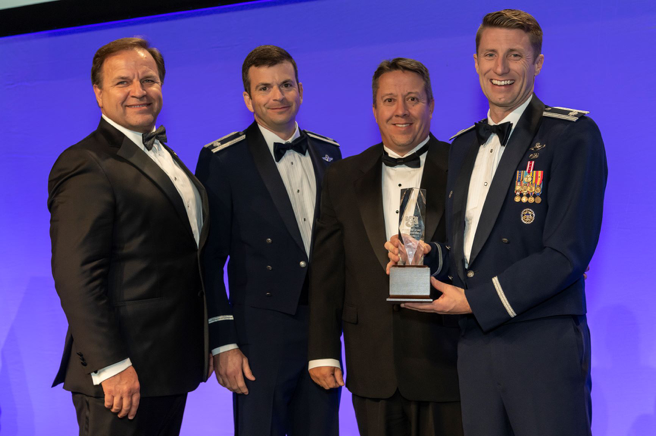 A former Blue Angel, Commander Dick Schram was the U.S. Department of Defense Aviation Support Liaison Officer in the Office of the Assistant Secretary of Defense. He had a wealth of knowledge and experience that he would share with anyone. Dick helped established shows, new shows, performers, writers and moviemakers. He did so enthusiastically and fairly. Schram died of a cerebral hemorrhage on June 29, 1987 at the age of 46. A second generation Naval officer, Dick was the son of the late Captain Dick Schram, known nationwide as the "Flying Professor" who thrilled air show audiences for more than 20 years.
The Dick Schram Memorial Community Relations Award is presented each year to the military base which in planning and implementing its air show or air event, not only exhibits traditional community relations as it considers the needs of its civilian neighbors, but sets new standards of excellence in this area by including its community in the planning, execution and rewards of the event. The selection panel for the award will be co-chaired by United States and Canadian military representatives (typically a committee of four). For the full list of past recipients, click here.
ICAS Pinnacle Awards
Click here for the ICAS Pinnacle Awards Brochure (deadline October 30)
The ICAS Pinnacle Awards program seeks to showcase professionalism, innovation in problem-solving and overall excellence in all air show operations and management.
Look for more information regarding the 2020 Pinnacle Awards to be released soon.