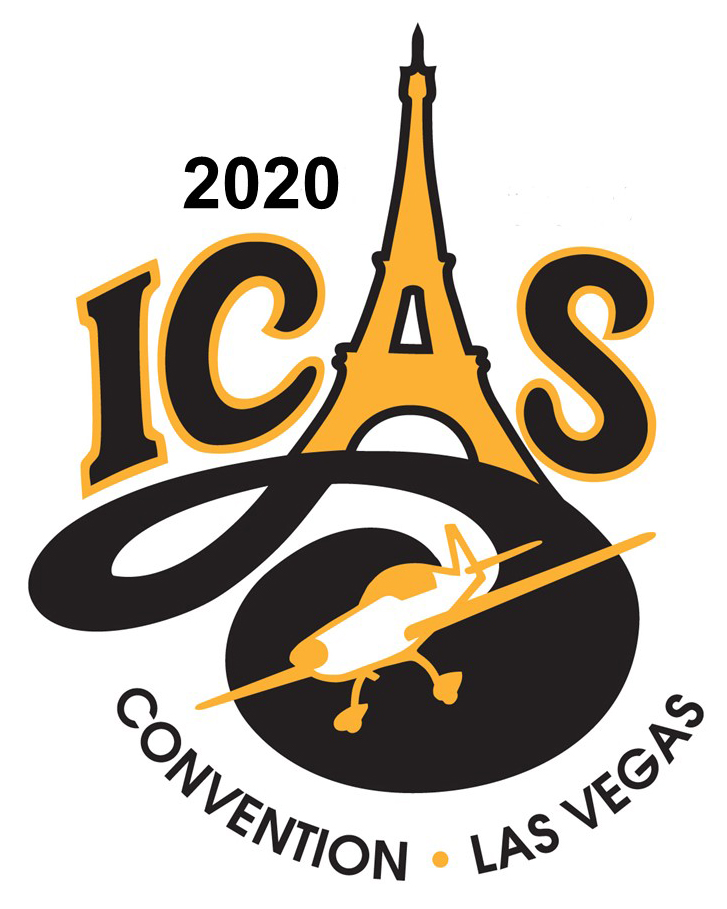 2020 ICAS Convention
There's Work to Be Done
The environment in which air shows are conducted in 2021 will be fundamentally different than anything we've ever seen. To plan and execute our events next year, the air show community has important preparation to do.
And that process will get a big boost when the North American air show community gathers at the Paris Las Vegas Hotel on December 8, 9 and 10 for the 2020 ICAS Convention.
Never Been a More Important Time to Attend the ICAS Convention
The 2021 air show season will be historic. Pent up demand, the wide open spaces of an air show ramp, and the interest and excitement generated by military and warbird flyovers this year during the pandemic will generate huge, enthusiastic crowds. The ICAS Convention will give all of us the tools, information and opportunities we need to plan our events and continue the process of recovering from the pandemic.
But, it won't be business as usual in 2021. No matter what segment of the industry you work in, change will impact almost every aspect of your air show business. It will be those changes that we focus on during the 2020 ICAS Convention: what they are, how they will be implemented and what it all means for the air show business and individual air show professionals.
For three days in Las Vegas in December, that's all we'll be talking about. Hundreds of air show professionals...all in one place...all with a common challenge...all eager to share information, insight and ideas...and all working to apply the lessons of 2020 to the challenges of 2021.
A New Look for the ICAS Convention
| | | | |
| --- | --- | --- | --- |
| | | | From the exhibit hall, networking sessions, forum discussions, and education sessions, the 2020 ICAS Convention will include all those elements that have made it a productive and efficient business meeting for more than five decades. |
But it will also take dead aim at the new challenges facing the air show community as a result of COVID. From public health updates and crowd management techniques to new approaches for marketing and sponsorship solicitation during these unprecedented times, the ICAS Convention will provide you with the information you need to do business in this new environment.

And we've made adjustments to many aspects of the convention to reflect the environment in which we will be meeting:

•

We've reduced registration fees (including an "early bird" discount that rolls the fees all the way back to what they were in 2002!) and negotiated a much better sleeping room deal with the hotel for all of our ICAS Convention delegates.

•

We have shortened the convention from 3½ days to 2½ days to further reduce your costs to attend the event while at the same time implementing a new convention schedule that packs most of what you have come to expect from the ICAS Convention into a reduced time block.

•

We've increased aisle widths in the exhibit hall and separation between chairs in the education sessions to maintain proper physical distance, but we'll still have 9.5 hours of exhibit hall-only time for you and your colleagues to conduct your most pressing air show business.

•

We are working with the Paris Las Vegas Hotel to implement a rigorous, multi-dimensional protocol for minimizing exposure to the virus, cleaning and sanitizing the convention space, and providing the safest possible environment for our 2020 ICAS Convention.
We Will Have Contingencies
Even as we develop the details and programming for our event in Las Vegas, we'll be developing options in the unlikely event that the virus interrupts our plans for the convention...plans that we will share with ICAS members later this summer.

And, if for any reason, your plans to attend the ICAS Convention change after you register and on or before December 2, ICAS will refund 100% of your convention registration fee. No penalty. No fee. No questions.
Time to Get Back Up
Over the last several months, the air show community in the United States, Canada and around the world has been knocked flat on its back.
And now, it's time for us to get back up...
...to demonstrate our resilience...
...to gather as a professional community and collaboratively plan the way forward and support one another...
...and to continue the challenging and critical work of planning a post-pandemic air show season.
Questions?
For questions about the annual ICAS Convention, contact ICAS headquarters by calling 703-779-8510 or emailing icas@airshows.aero or visiting the Frequently Asked Questions section by clicking here.
Future Convention Dates

2021 ICAS Convention

Monday, December 6 - Thursday, December 9, 2021

Paris Las Vegas on the famous Las Vegas Strip