For most air show professionals, the ICAS exhibit hall is one giant 60,000-square-foot classroom. At any given point during the ICAS Convention, it will contain - literally - every air show expert in North America. Think of that. Air show subject matter experts. All in one place. All at the same time. All willing and able to share that expertise with you. To download the ICAS Exhibitor Prospectus, click here.
As a result of the COVID-19 pandemic, ICAS has redesigned the ICAS Convention exhibit hall to include wider aisles to permit appropriate physical distancing and reduce the possibility of virus infection.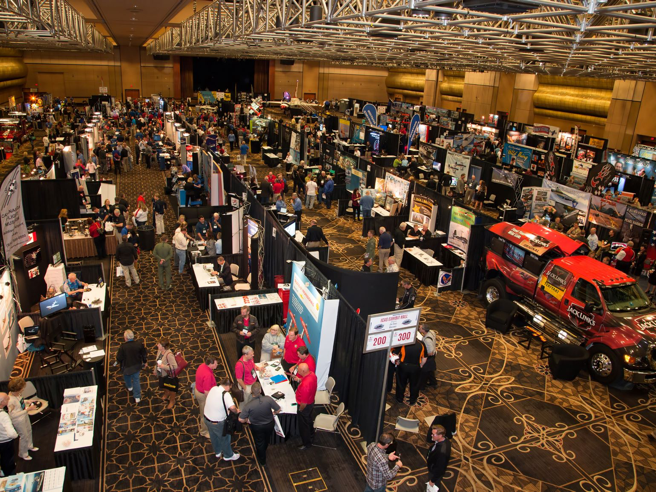 This year, the Exhibit hall is located in the Rivoli Ballroom at the Paris Las Vegas Hotel. Click here to download the current Exhibit Hall floor plan. GES is the preferred exhibit service provider for the ICAS Convention and is available to assist exhibitors with every aspect of exhibiting. Click here to access the current Exhibitor Service Kit.
Here are some important dates to remember:
All dates and times are tentative and subject to change. Be sure to check all order forms for additional deadlines)
Discount Deadline Date:
Monday, November 16, 2020
GES orders must be received with payment by this date.
Installation:
Vehicle Move-In By Appointment Only
December 8, 2020
7:00 a.m. - 11:00 a.m.
Exhibitor Move-In
December 8, 2020
11:00 a.m. - 4:45 p.m.
Exhibit Hours (tentative):
Exhibit Session A
December 9, 2020
9:45 a.m. - 1:45 p.m.
Exhibit Session B
December 9, 2020
3:30 p.m. - 5:45 p.m.
Exhibit Session C
December 10, 2020
9:00 a.m. - 12:15 p.m.
Dismantle/Move-Out:
Exhibitor Move-Out
December 10, 2020
12:15 p.m. - 2:30 p.m.
Want to Exhibit at the 2020- ICAS Convention?
1. Download the ICAS Exhibitor Prospectus, by clicking here..
2. Review the floor plan and Exhibit Rules and Regulations..
3. Return a completed exhibitor application via email to connors@airshows.aero
or via mail to: ICAS, 741 Miller Dr SE, Ste G-1A, Leesburg VA 20175


For questions or assistance, contact Karen Connors at 703-779-8510 or connors@airshows.aero.