2020 ICAS Virtual Convention - Exhibit Information
The 2020 ICAS Convention will be a virtual convention due to complications and public health restrictions associated with the Coronavirus pandemic. Our virtual convention will include an exhibit hall platform that will be open from the morning of Monday, December 7 through the afternoon of Friday, December 11 with over 18 dedicated exhibit hours throughout the convention schedule.
Each booth in the virtual ICAS exhibit hall provides your organization with a plot of "virtual real estate" from which to promote your products or services. The virtual booths include a dedicated video conferencing license that allows you to speak with your customers and prospective customers throughout this year's virtual convention. It includes a description of your organization, an on-line tool to make and track appointments with event organizers, website links, videos, searchable tags, downloadable documents, the ability to conduct polls and surveys, and detailed contact information for you and other booth staff. Booth listings will include your company name and logo.
A unique feature of our virtual exhibit hall will permit you to see detailed information about every prospective buyer who visits your booth, looks at your listing and what part of your virtual booth they visited. This is valuable data that you can use to target post-convention follow-up.
Silver booth packages ($475) include all of the above-mentioned features.
SOLD OUT Gold booth packages ($550) include all the features of a Silver booth plus a rotating banner ad for your organization on the Gold exhibitors home page, visibility that will increase your exposure among all of our virtual convention delegates. Limited to 40 exhibitors.
SOLD OUT Platinum booth packages ($625) include all the features of a Gold booth plus a larger feature listing on the Platinum exhibitors home page providing your organization with even more visibility among the hundreds of air show buyers who will attend our virtual convention. Limited to 25 exhibitors.
To watch the 2020 ICAS Virtual Convention Exhibit Information Webinar from October 23rd click here.
Sample virtual booth: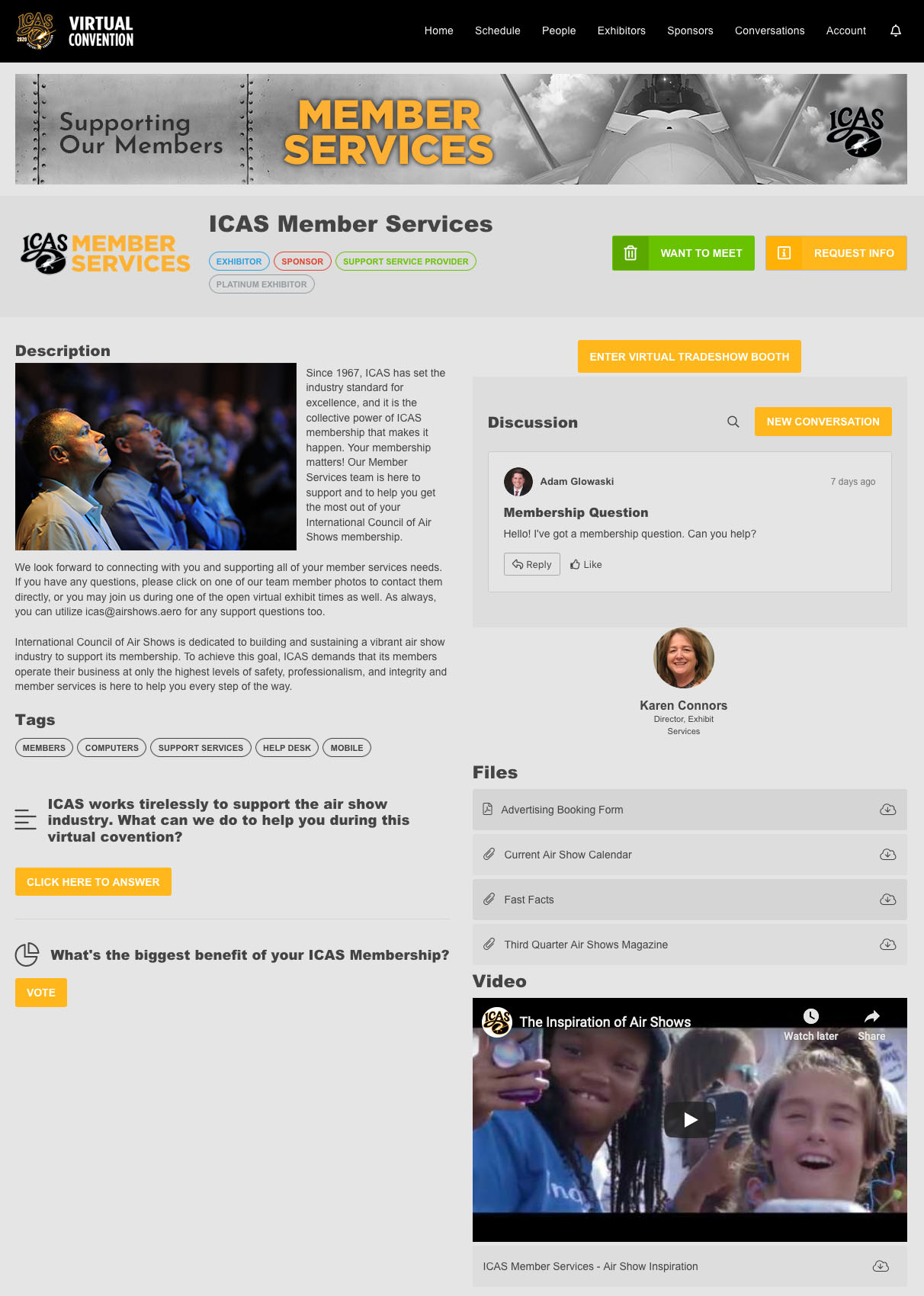 Exhibit Hours (tentative):
Virtual Exhibit Session A
December 8, 2020
10:50 a.m. - 12:00 p.m. (Immediately following the Jet Team Schedule Announcements)
Virtual Exhibit Session B
December 8, 2020
2:30 p.m. - 3:45 p.m.
Virtual Exhibit Session C
December 9, 2020
12:15 p.m. - 1:30 p.m.
Virtual Exhibit Session D
December 9, 2020
12:15 p.m. - 1:30 p.m.
Want to Exhibit at the 2020 ICAS Virtual Convention?
1. Return a completed exhibitor application via email to connors@airshows.aero
or via mail to: ICAS, 741 Miller Dr SE, Ste G-1A, Leesburg VA 20175


For questions or assistance, contact Karen Connors at 703-779-8510 or connors@airshows.aero.